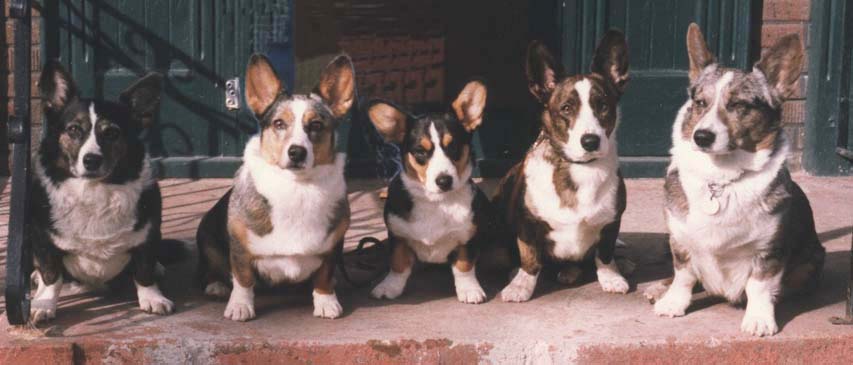 From left to right: our foundation bitch, Joker, daughter Patches, Emily Murphy from California, Joker's granddaughter Georgina, and Joker's son Duke.
At Aberwyvern, we specialize in breeding beautiful blue merle Cardigans, and the blacks so necessary to produce them. Occasionally some of the other colours have enriched our lives. We breed for temperament and soundness, intelligence and trainability. Whether you want a working farm dog, a show dog, an obedience prospect or a loving companion, we hope one of ours will fill the bill.
We are located about 60 minutes south of Ottawa, the national capital of Canada, and within a reasonable distance of major airports in Toronto, Montreal and Upstate New York.
Marilyn Boissonneault (that's me) has been involved in this breed since 1984 as a member and past president of the Canadian Cardigan Corgi Club, a member of the Canadian Kennel Club, a member and former director of the Cornwall and District Kennel Club and a member of the Cardigan Welsh Corgi Club of America.
The Future Plans page includes information about planned or current litters. We welcome your inquiries at: (613) 543-3435 or by email at:
aberwyvern@xplornet.ca

Please also visit the web site of our national club, the Canadian Cardigan Corgi Club, at www.cardigancorgi.ca for information about the club and Cardigan activities in Canada.