Cardigan Welsh Corgis have two different expressions of the basic black coat colour. Black and white with tan points is usually referred to as tri-colour and is the most recessive colour in the breed. Black and white with brindle points is dominant to both tri-colour and red or sable and white and is sometimes referred to as brindled tri-colour. In a black and white with brindle points, the points are often difficult to see but genetically present, there is no "bi-colour" black in this breed. Either variation is suitable for breeding to blue merle, which is actually a genetic black carrying the merle modifier.
"JULIA!"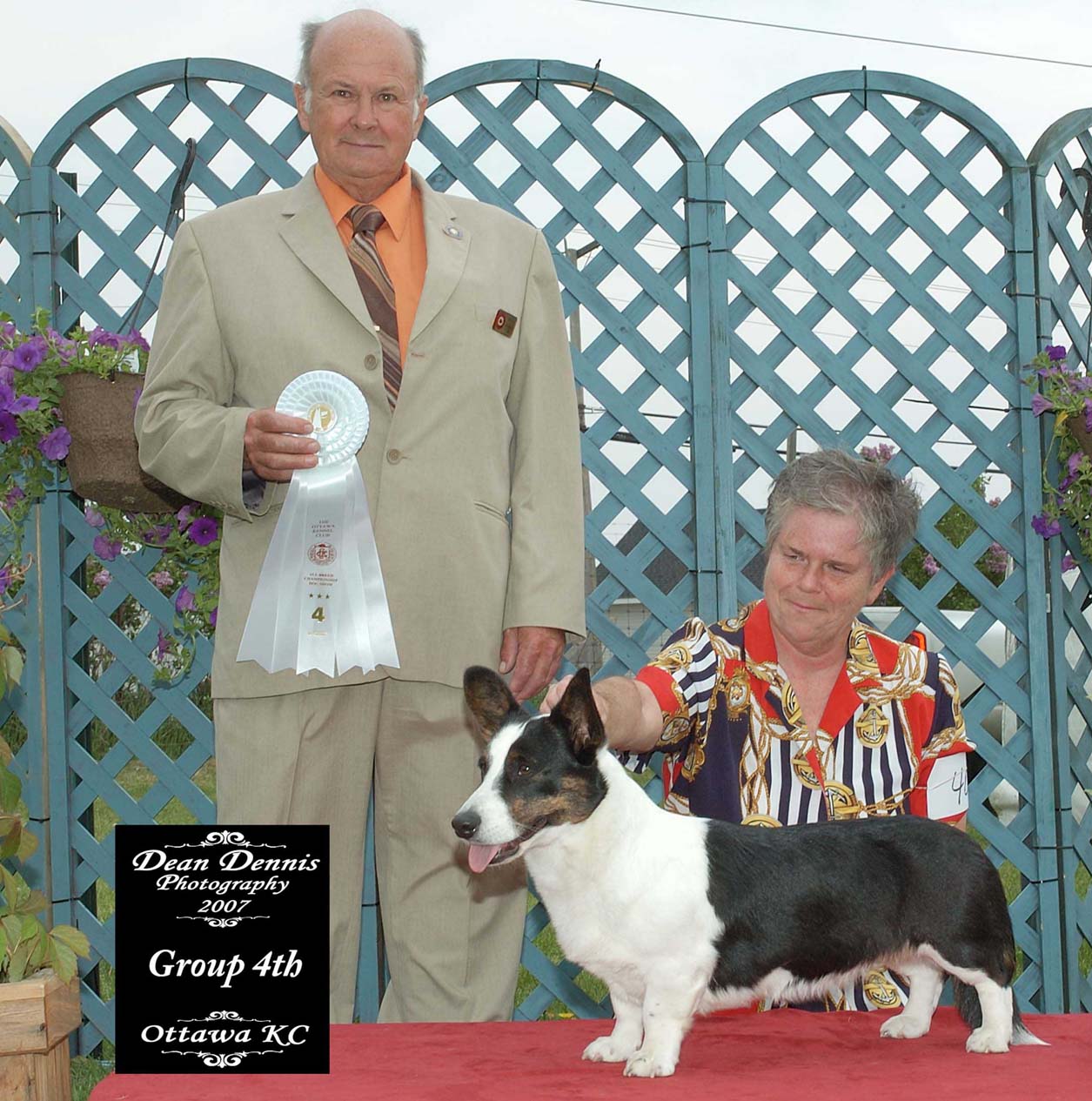 CHAMPION CHEYSULI ABERWYVERN BONE APPETIT
"Miss Julia Child"
JULIA finished 2007 as the Number Two Cardigan in Canada, second only to a dog that won a Best In Show. Although she was not bred in Canada, at that time she was the only nationally ranked Cardigan that actually lived in Canada.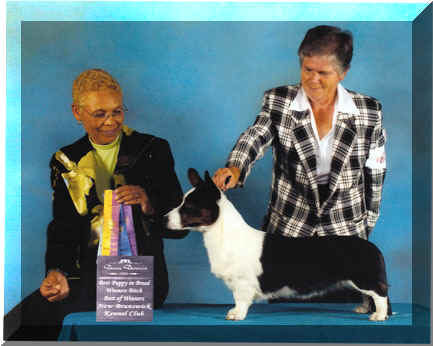 Julia was bred by well-known Arizona breeder, and successful author, Jennifer Roberson. Julia is the daughter of Am. Ch. Cheysuli Jumpin' Black Flash, Best In Sweepstakes, Winners Dog at the Southern California Specialty at the age of 9 months, Reserve Winners at the U.S. National a few months later. Mom Ribbon, Am. Ch. Cheysuli Liquid Silver is a winner of the prestigious "Megan" competition at the U.S. National as well as BOS at the 2010 U.S. National from Veteran's class. I waited 3 years for Julia, because I thought Ribbon, even as a puppy, was the most beautiful Cardigan I had ever seen. It was well worth the wait! Julia won Best Of Breed at her very first show in early May 2006 and finished her championship in August at the New Brunswick KC shows, the day after this photo was taken. She's shown here winning Best Of Winners and Best Puppy for 4 points under well known and respected judge Sue Ellen Rempel, superbly handled by her good friend Carol Froats.
Julia's Child (or two):
Can. Ch. Aberwyvern License To Grill
Am/Can. Ch. Olwdd Eli O Troublemaker
x
Can. Ch. Chesuli Aberwyvern Bone Appetit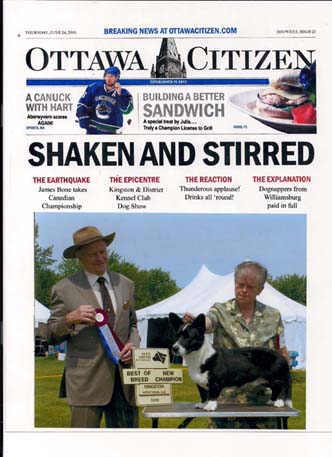 "The name is Bone, James Bone."
James finished his championship in two weekends. Shortly thereafter the Ottawa area experienced a moderate earthquake. This was the front page of the Ottawa Citizen the next day, as modified to celebrate James' achievement.

James now lives in South Carolina with his co-owner, my cousin Fay Hulett Nelson and her husband Duard Hulett where he has taken up agility and herding.
Can. Ch. Aberwyvern Nigella Doesn't Bite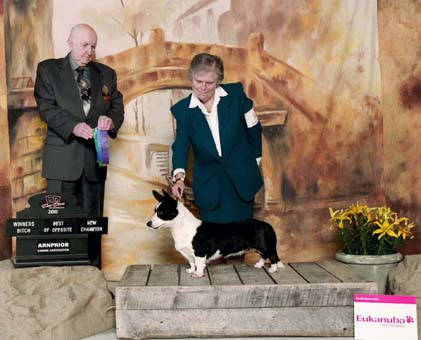 James' litter sister "Nella" took a little longer to finish due to her fondness for mischief in the ring.

~~~~~~~~~~~~~~~~~~~~~~~~~~~~~~~~~~~~~~~~~~~~~~~~~~~~~~~~~~~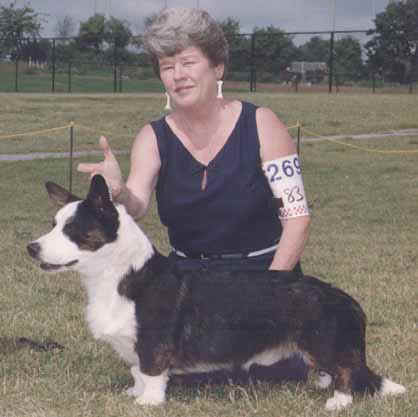 Champion Aberwyvern Llanelidon
1994-2005
(Ch. Cedarstones Rolls Royce x Aelwyd Judge Emily Murphy)


ELI, for many years our stud dog, pictured here as Winners Dog at the 1996 Markham Booster show, he was Reserve Winners at the National Specialty later in the day.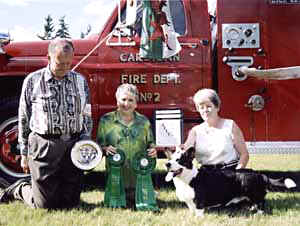 Eli winning Best Stud Dog and Award of Merit at the 2000 National Specialty in the village of Cardigan, Prince Edward Island. Our judge was the very well known and knowledgeable Cheryl Myers-Egerton.
Eli's own sire was Best In Specialty at the 1994 National Specialty at Newmarket.
(Photo by Pawprints Canine Photographers)
BONEHEAD!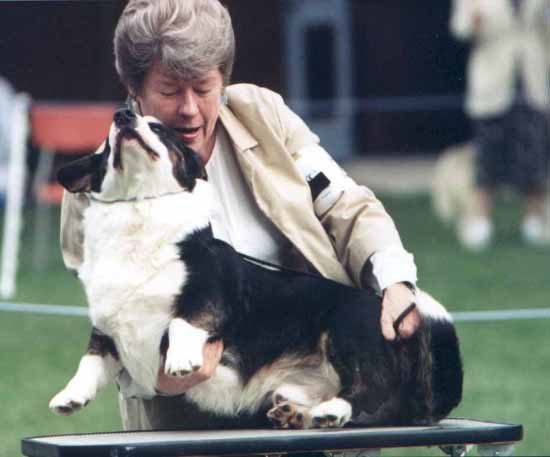 Our sweet boy earned this
unfortunate nickname on
the day he finished his
championship, when he
almost knocked out his
handler and co-owner.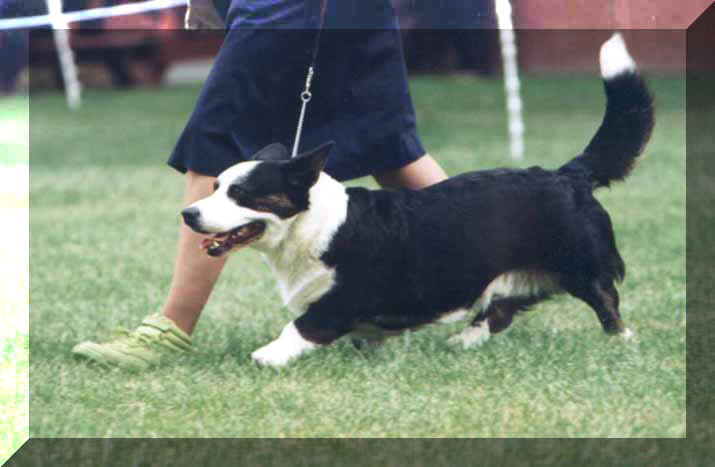 Eli on the move. A powerfully built dog, he produced this excellent reach and drive in his offspring.
Eli was black and white with brindle points.
Eli Junior

Am. Ch. Olwdd Eli O Troublemaker

Champion Aberwyvern Cleo Laine
Eli's daughter Cleo winning Best Of Breed at Kingston Kennel Club at her first show.
American Champion Aelwyd Aberwyvern Baklava
1996 - 2009
Becky, a lovely girl from California, won Winners Bitch, Best Opposite Sex and Best Puppy at the 1997 National Specialty, superbly handled by Sue Bain. Becky's sire won Best In Specialty at the 1995 National and High Score in obedience at the 1994 National. Eli and Becky produced the handsome youngster "Donner" who went out West to Idaho.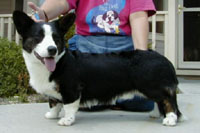 AM.CH. ABERWYVERN AELWYD INCORRIGIBLE "Donner" son of Eli and Becky was Best Of Winners at both of his first two shows and Reserve Winners to a major in heavy competition from puppy class. Donner, like his parents, is black and white with brindle points.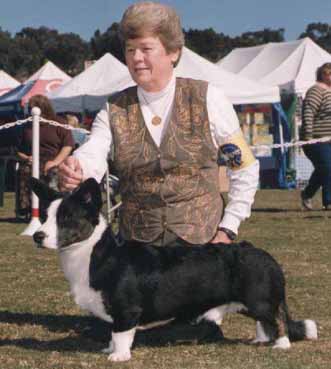 A Canadian Cardigan in California! Donner drifted south when the snow started to fall and enjoyed a show circuit in California and Arizona. Best Of Winners at Cabrillo KC was followed by Best Of Breed over Specials at Sahuaro State KC.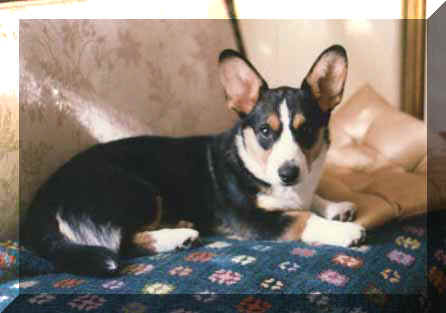 AELWYD JUDGE EMILY MURPHY
1989 - 2005
"Emily," Eli's mother who came to us from California. Emily never enjoyed being a show dog although both her parents were Canadian & American champions. Though she looks demure here, she was also known as 'The little black devil dog from hell'. In retirement, she achieved every Cardigan's dream: she lived with a Welsh-born butcher, and had her own pet cat. Emily was "tri-colour."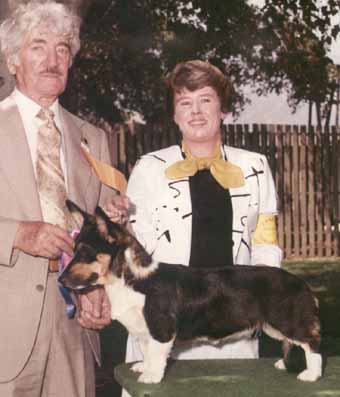 Can/Am. Champion Finnshavn's Helen McLeod
1985 - 2000
Nellie McLeod, Emily's mother, was a full sister of Can/Am. Ch. Finnshavn's Alexander Selkirk, the first Cardigan ever to win Best In Show in Canada. She was exported to California as a puppy and is pictured here Winners Bitch at her first show, as a six month old puppy. She would have received a CD in obedience if all three of her qualifying scores had been in the same country. Nellie lived to be 15 years old. She was a tri-colour with bright tan points.